MOT Type 1 St Helens
Do you need MOT Type 1 in St Helens?
Got a construction project that could be more environmentally friendly?
Consider using recycled aggregates in St Helens that meet essential industry standards for your construction-based projects.
Contact Grundy & Co today for MOT Type 1 in St Helens and the surrounding areas.
What is MOT Type 1?
Type 1 MOT is an aggregate that can be made up of many different materials including a mix of:
Limestone
Granite
Gritstone
Basalt
Recycled materials (e.g. concrete, bricks and hardcore)
The aggregate is made up of materials in a range of sizes from 40mm to dust, making it excellent for compacting.
This in turn makes it ideal for sub-base, as it is extremely strong and has excellent load-bearing qualities.
Grundy & Co Excavations Ltd process and manufacture demolition waste recovered from across the North West to create ecologically sound recycled MOT Type 1 for St Helens.
We also supply:
What can MOT Type 1 be used for?
MOT Type 1 in St Helens is suitable for a wide selection of construction-based projects, thanks to its superior compactability.
These include:
Driveways
Garden paths
Artificial grass
Roads
Over-site fills
Pavements
Car parks
Patios
Trench fills
Grundy & Co recover demolition waste from across the North West to produce recycled MOT Type 1 aggregates. Not only does this reduce the impact of construction on the environment, but it also produces high-quality aggregates with an economical price tag.
When will you need MOT Type 1 in St Helens?
If you are completing a construction or agricultural project in Merseyside or the surrounding area, chances are you will need aggregates of one kind or another.
Why not consider using recycled aggregates that are approved by the Ministry of Transport?
As well as supporting an established local business, you can reduce the environmental impact of your project, something that is becoming increasingly sought-after within the industry.
So, if you are looking for a greener aggregate supplier with 40 years of experience, contact Grundy & Co today.
We have the experience and expertise needed to offer tailored solutions for any project. At our local yard in Widnes, can get you the aggregates you need, in as little as 48 hours.
Find high-quality MOT Type 1 in St Helens
As we process and recycle all recovered aggregates ourselves, Grundy & Co can offer highly competitive, high-quality custom orders to locations across the North West, including St Helens.
For a personalised quote, give us a call on 0151 257 8816 to chat with our friendly team, or send us an email and we'll get back to you as soon as we can.
Need our expertise?
Request a call back from our team today!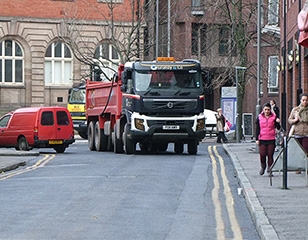 Current Products Available
MOT Type 1
6F2 Crushed Brick
20mm Pipe Bedding (Washed)
40mm Pipe Bedding (Washed)
6 x 4 (Washed)
Road Planings
Fine Sand
Coarse Sand
Sandfill
As Dug Soil
Screened Soil
Washed Clay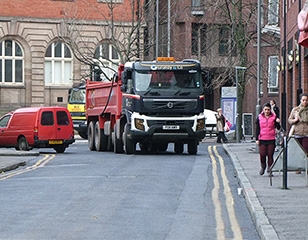 Prefer to speak to us directly?
Feel free to speak to an expert by clicking the "call now" button
Projects & News
See our latest news and projects