MOT Type 1 Runcorn
If you need MOT Type 1 in Runcorn, you've come to the right place.
Grundy & Co have vast experience in the excavations and recycled aggregates industry. We have been supplying domestic and commercial clients with the aggregate they need to complete their projects for many years and are confident we can do the same for you.
To find out more about our MOT Type 1 in Runcorn and arrange to have aggregates delivered to your site, call us on 0151 257 8816.
MOT Type 1 aggregate for Runcorn-based projects
MOT Type 1 is a crushed aggregate made from limestone, concrete and granite.
Approved by the Ministry of Transport, Type 1 hardcore provides a stable sub-base for roads and pavements, as well as patios, driveways and artificial grass. It guarantees a smooth, flat surface with excellent load-bearing properties.
Whilst there is an extensive range of aggregates on the market, we're finding that our MOT Type 1 in Runcorn is becoming increasingly more popular – and it's generally because it's a recycled material. Not only is it cheaper to manufacture than raw materials, but you can also save money on transportation costs – especially if hardcore is locally sourced.
When you buy Type 1 aggregate from us, you can trust that you'll receive top-quality materials for your project without breaking the bank, as all materials are washed and screened at our sandwashing plant. Plus, you can do your bit for the environment by making the most of materials left over from construction and demolition sites.
Benefit from MOT Type 1 delivery in Runcorn
Whilst there are bound to be numerous companies supplying MOT Type 1 in Runcorn, Grundy & Co can deliver the quantity and quality required at short notice, and for a highly competitive price.
We pride ourselves on delivering the materials you need, whenever you need them – ensuring that your project runs as smoothly as possible.
Whether you need to buy MOT Type 1 in Runcorn in bulk or loose-tipped, our team use only the most reliable tipper trucks to offload materials safely and efficiently.
If you'd like to know more about our MOT Type 1 hardcore or to discuss your requirements in further detail with our experts, you're welcome to get in touch with us at any time.
Simply give us a call on 0151 257 8816 or email sales@grundyandco.com, and we'll gladly share our expertise and arrange a convenient time to deliver MOT Type 1 in Runcorn.
Need our expertise?
Request a call back from our team today!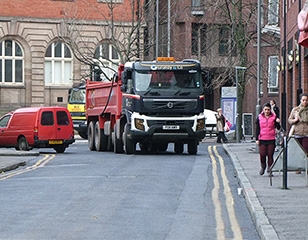 Current Products Available
MOT Type 1
6F2 Crushed Brick
20mm Pipe Bedding (Washed)
40mm Pipe Bedding (Washed)
6 x 4 (Washed)
Road Planings
Fine Sand
Coarse Sand
Sandfill
As Dug Soil
Screened Soil
Washed Clay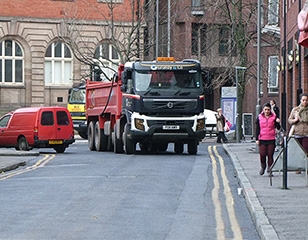 Prefer to speak to us directly?
Feel free to speak to an expert by clicking the "call now" button
Projects & News
See our latest news and projects