MOT Type 1 Chester
Want to protect the planet and your bottom line?
Consider recycled aggregates from Grundy & Co Excavations Ltd when searching for MOT Type 1 – perfect for construction projects across the North West.
What is MOT Type 1?
Sometimes referred to as Type 1 subbase, MOT Type 1 is a granular crushed aggregate that conforms to requirements set out by the Ministry of Transport.
When used as a sub-base, it ensures a flat and compact surface with excellent load-bearing capacity. This is achieved because the varying particle sizes interlock and distribute weight evenly to create a stable and durable hardcore base.
MOT Type 1 contains the largest-sized crushed materials, ranging from 40mm to dust, and is predominantly made up of limestone, concrete, and granite, but can also include gritstone, basalt, and recycled materials including bricks and hardcore.
Who needs MOT Type 1 in Chester?
MOT Type 1 is suitable for a wide range of private and public projects, including:
Roads
Pavements
Driveways
Car parks
Patios
Garen paths
Trench fills
Artificial grass
Over-site fills
As such, any project that requires a topping of asphalt, concrete, shingle, or block paving is also suitable for an MOT Type 1 sub-base.
Is recycled MOT Type 1 good quality?
Choosing recycled MOT Type 1 in Chester can initially seem like a bit of a gamble.
However, as proven by independent third-party testing, Grundy & Co can attest to the high quality of our recycled aggregates, including MOT Type 1, because we manufacture it ourselves.
This benefits our customers, offering an alternative that can be kinder to the wallet, as well as helping the environment.
Find recycled MOT Type 1 in Chester and the North West
Grundy & Co Excavations Ltd recover demolition waste from across the North West to produce recycled MOT Type 1 aggregate for Chester and beyond.
Not only does this reduce the impact of construction on the environment, but it also produces high-quality aggregates with an economical price tag.
For a custom quote of any size, which includes delivery in as little as 24- 48 hours, give us a call on 0151 257 8816 or send us an email and we'll get back to you as soon as possible.
Need our expertise?
Request a call back from our team today!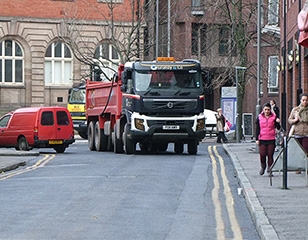 Current Products Available
MOT Type 1
6F2 Crushed Brick
20mm Pipe Bedding (Washed)
40mm Pipe Bedding (Washed)
6 x 4 (Washed)
Road Planings
Fine Sand
Coarse Sand
Sandfill
As Dug Soil
Screened Soil
Washed Clay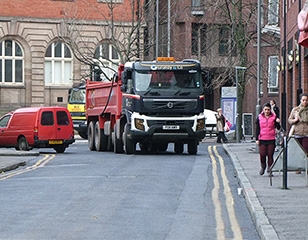 Prefer to speak to us directly?
Feel free to speak to an expert by clicking the "call now" button
Projects & News
See our latest news and projects