MOT Type 1 Liverpool
Need MOT Type 1 in Liverpool for your new project?
Allow Grundy & Co Excavations Ltd to help.
As leaders in the excavations and recycled aggregates industry, we often supply aggregates from our yard in Widnes, which is only 30 minutes from Liverpool – accommodating the needs of domestic and commercial clients in the city centre and on the outskirts.
If you'd like to know more about our MOT Type 1 in Liverpool, why not give us a call on 0151 257 8816?
Top-quality MOT type 1 aggregate
MOT Type 1 is typically made from limestone, crushed concrete and granite. As a crushed granite sub-base, it ensures a flat and compact surface with excellent load-bearing capacity. The varying particle sizes interlock and distribute weight evenly to prevent settlement.
Type 1 hardcore is approved by the Ministry of Transport. It provides a stable and durable sub-base for high-traffic road surfaces and pavement construction and can be used to create a hardcore base for patios, driveways and artificial grass.
Whilst there are several reasons why more and more people are choosing MOT Type 1 in Liverpool, one of the main ones is that it is a recycled aggregate. This means that it's generally cheaper to manufacture than raw materials. And, when locally sourced, can save you money on transportation costs.
Arrange MOT type 1 delivery in Liverpool
When it comes to buying MOT Type 1 in Liverpool – either in bulk or loose-tipped – you'll be hard-pushed to find better quality aggregates for less anywhere else.
At Grundy & Co, we pride ourselves on delivering the materials you need, whenever you need them, at a highly competitive price. We consider no task too big or too small and will offer a tailored solution for your project requirements.
If you have any questions about MOT Type 1 in Liverpool – whether it be regarding its uses or our delivery service – you're welcome to contact our specialists.
Always on hand to help, we can share our expertise and provide you with the information you need to make those all-important decisions.
To speak to a member of our team over the phone, call 0151 257 8816, or drop us an email at sales@grundyandco.com and we'll get back to you as soon as we can.
Frequently Asked Questions
Need our expertise?
Request a call back from our team today!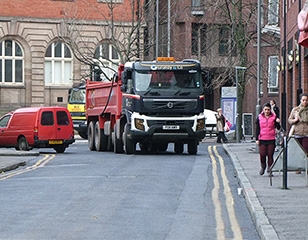 Current Products Available
MOT Type 1
6F2 Crushed Brick
20mm Pipe Bedding (Washed)
40mm Pipe Bedding (Washed)
6 x 4 (Washed)
Road Planings
Fine Sand
Coarse Sand
Sandfill
As Dug Soil
Screened Soil
Washed Clay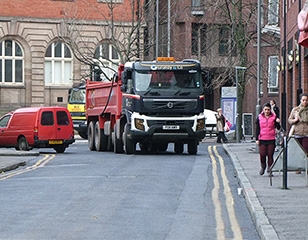 Prefer to speak to us directly?
Feel free to speak to an expert by clicking the "call now" button
Projects & News
See our latest news and projects