MOT Type 1 Wigan
Have you a construction project in Wigan that needs MOT Type 1?
Grundy & Co Excavations Ltd source, manufacture, and deliver recycled aggregates across the North Werst, including to Wigan for MOT Type 1, coarse sand, crushed brick, and other recycled aggregates.
To find out more, give us a call on 0151 257 8816!
What is MOT Type 1?
Abbreviated from Ministry of Transport Type 1, MOT Type 1 is probably the most popular aggregate in the construction industry and is commonly used in the construction of roads – hence the name.
As a granular crushed aggregate, it must conform to requirements set out by the Ministry of Transport – namely that it is between 0-40mm and made up of a range of crushed materials, including:
Granite
Limestone
Gritstone
Concrete
Basalt
Recycled materials including bricks and hardcore.
As it is incredibly strong, the right size, and has the necessary compressive strength, it is the go-to sublayer for roads, pavements, and driveways – among other projects.
Which projects need MOT Type 1?
MOT Type 1 is the ideal aggregate for the construction of roads, driveways, and walkways thanks to the varying particle sizes – these interlock and distribute weight evenly when compacted.
This creates a stable and durable hardcore base with excellent load-bearing capacity, perfectly suited to construction projects that must be durable and long-lasting, including but not limited to:
Over-site fills
Roads
Artificial grass base
Pavements and walkways
Trench fills
Driveways
Haul roads and highways
Garden paths and footpaths
Car parks
Patios and fire pits
MOT Type 1 in Wigan is also suitable for projects that require a final layer of asphalt, concrete, shingle, or block paving – making it one of the most versatile aggregates in use across the UK.
Is recycled MOT Type 1 in Wigan good enough for construction projects?
It's normal to have apprehensions about switching to a new aggregate type, but with Grundy & Co, you don't have to worry.
Thanks to our experience and quality-proofing, swapping to recycled aggregates – like MOT Type 1 – will be easier than choosing your lunch.
Using recycled materials from excavations and demolitions across the North West, Grundy & Co can reuse a waste product and give building materials another life, cutting down on the amount of construction waste in landfill – while also ensuring customers receive the best value product, for the best price per tonne.
As we have been supplying high-quality recycled aggregates for over 40 years and are independently verified by third-party testing, our customers are confident of the quality product they are receiving.
So, what are you waiting for?
Choose MOT Type 1 in Wigan from Grundy & Co
Grundy & Co Excavations Ltd regularly provide high-quality, independently verified recycled aggregates, including MOT Type 1, in Wigan and the surrounding area for the best price per tonne.
This gives our customers an economical, environmentally friendly option as well developing support for local businesses.
To receive a custom quote of any size, including delivery in as little as 24- 48 hours – either bulk or loose-tipped – give us a call today on 0151 257 8816. Alternatively, you could email us at sales@grundyandco.com, outlining your requirements, and we'll get back to you with more information as soon as we can.
Need our expertise?
Request a call back from our team today!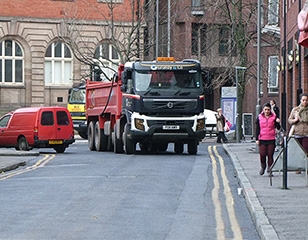 Current Products Available
MOT Type 1
6F2 Crushed Brick
20mm Pipe Bedding (Washed)
40mm Pipe Bedding (Washed)
6 x 4 (Washed)
Road Planings
Fine Sand
Coarse Sand
Sandfill
As Dug Soil
Screened Soil
Washed Clay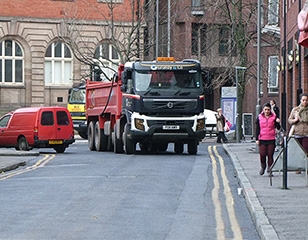 Prefer to speak to us directly?
Feel free to speak to an expert by clicking the "call now" button
Projects & News
See our latest news and projects