MOT Type 1 In Manchester
Looking for type 1 MOT in Manchester?
Here at Grundy & Co, we are committed to offering environmentally friendly, recycled aggregates that meet industry standards.
Suitable for anyone, from home DIY-ers to large-scale construction projects, available in a range of tonnage to suit any project.
Contact us today for more information.
What is MOT type 1 used for?
MOT type 1 in Manchester is used as a compactable sub-base in many construction projects including:
Roads
Pavements
Driveways
Car parks
Patios
Garen paths
Trench fills
Artificial grass
Over-site fills
Grundy & Co are proud to produce their own recycled type 1 sub-base in our on-site yard in Widnes, perfect for contractors looking to utilise more economically sound aggregates, at an affordable price.
Why do I need MOT type 1 in Manchester?
Approved by the Ministry of Transport, our top-quality aggregate is perfect for local construction projects keen to lessen their carbon footprint while supporting local businesses.
Deemed a waste product, we recover crushed concrete and rubble from building projects in the North West and use this to make top-quality MOT type 1, perfect for your construction projects.
With 40 years of experience in the aggregate market, Grundy & Co are able to offer tailored solutions for any project requirement, including bulk or loose-tipped, large or small projects- we can do it all.
Based only an hour away, we can quickly and regularly deliver crushed brick aggregate from our base in Widnes to clients in central Manchester and the outskirts of the city.
Find MOT type 1 suppliers in Manchester
As we complete our own on-site recycling to create our own aggregates, we are able to offer highly competitive pricing and deliver custom-size orders, to locations throughout Merseyside, including Chester, The Wirral, Manchester, St Helens, Warrington, and Runcorn.
Set your project off on a solid foundation and contact us today.
You can call us on 0151 257 8816 or email us with your questions and we will get back to you as soon as we can.
Frequently Asked Questions
Need our expertise?
Request a call back from our team today!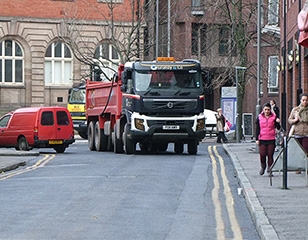 Current Products Available
MOT Type 1
6F2 Crushed Brick
20mm Pipe Bedding (Washed)
40mm Pipe Bedding (Washed)
6 x 4 (Washed)
Road Planings
Fine Sand
Coarse Sand
Sandfill
As Dug Soil
Screened Soil
Washed Clay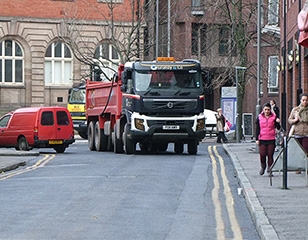 Prefer to speak to us directly?
Feel free to speak to an expert by clicking the "call now" button
Projects & News
See our latest news and projects